who we are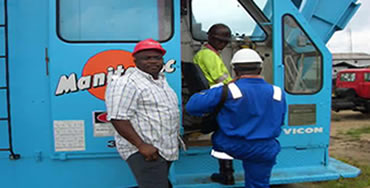 our history
Became incorporated with the Nigerian Corporate Affairs Commission ( RC: 320317 ) to provide marine services while fulfilling other consultancy roles.

Our rapidly growing organization was restructured to expand our services to include Onshore business activities and other emerging interests.

Became recognized as a National Safety Compliance organization.

Became ISO 9001 certified.

Continued expansion in the Oil & Gas sector with the acquisition of 2 Downstream companies.
capabilities
our emphasis is on flexibility and responsiveness
The company's business activities can be broadly classified into five areas:
Engineering, Procurement & Construction "EPC"
Marine Equipment Leasing/Sale (Tanker VLS, OSV's, Barges, House Boat, Tugs and Barges)
Oil & Gas (Petroleum Products (Upstream & Downstream)
Crane & Lifting Equipment
Consultancy
The Company's scope of services is currently in Nigeria both in onshore and offshore areas and willing to go into strategic alliance with other engineering companies for the purpose of executing specific projects..
advantages
Experience

We have been around for a while and we sure know our onions. We have been provided top-of-the-line services to our numerous clients since 1997.

Professionalism

We go beyond the need of business. We offer what you deserve, the best.

Expertise

Every client is different and so our services are expertly tailored to the need of each client.
Mission Statement
We are totally committed to being a reputable oil and gas & Marine Company, rendering quality driven and customer-focused services based on a culture of excellence by making use of our dedicated and highly skilled workforce and modern equipment and technology.
Vision
To be the foremost Marine/EPC and oil and gas Firm in Nigeria with a widespread network in Africa delivering the most superior customer service through high technology.
Objective
The main objective of the Company is to provide a broad based Engineering and related service that will be indigenously oriented to challenge the present foreign dominance of the construction engineering industry by giving a better or an equivalent service being supplied by the foreign firms. Professional integrity in a steady and progressive growth earnestly exploring all available potentials and resources for the advancement of engineering.